The Galerie Blanche is happy to have Claude Miquel's work on silk next July in Giverny.
Claude Miquel likes Giverny, a place she has visited both during Fall and Spring in the past, for its very colourful atmosphere coming from both the garden of Claude Monet and the house itself, today home of Claude Monet's Foundation.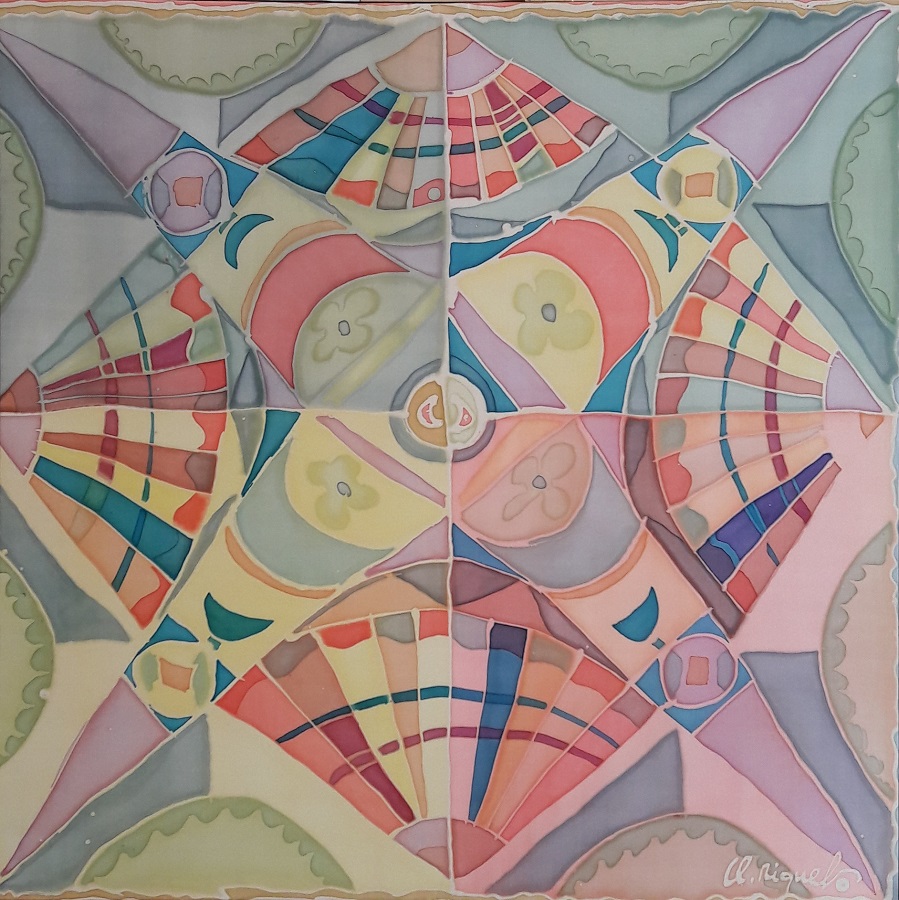 Claude Miquel has never painted flowers. Her work has always been oriented to geometric coloured patterns that she's duplicating again and again as if she was exercising. This repetition creates many small mosaics of different sizes (20×20; 30×30; 40×40), or large squares, her favourite format.
Here at the Galerie Blanche, she has a 20×20 pavement on the floor that has blue and pink shades. On the front of the galerie building, she shares a large square ,created for the exhibition, with Christine Maillard.
Claude Miquel gives us her "figurative references" as she called them herself. Moments from her own life that she sorts by themes: Thé café chocolat is a family shared greedy break, a memory from her grandfather and the allusion to the drunk tea in the far east countries; La Rentrée mentions her daughter, studying graphic arts, and honours every painter of the region and their studios (see the one from Hotel Baudy). Claude keeps painting her repeated series. Just as a bookcase has to grow bigger as the number of books bought increases, Claude offers us every year new paintings.
Recently, she's been working on pure abstraction by painting scales from which balloons, stars, volutes are escaping. But she still doesn't know where it goes.
Claude Miquel's painting, a bit nostalgic, takes us gently to emotions to experience or to re-experience. She's suggesting, before any reflexion, eye joy and happiness.